We believe in loving our neighbors.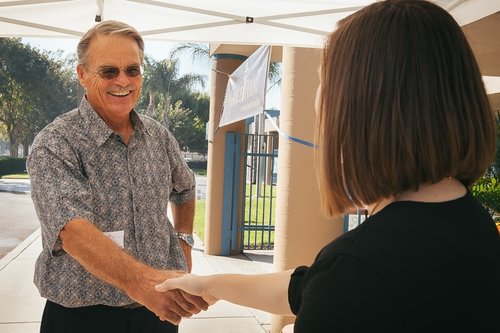 How would you feel if we were neighbors?
GracePoint Church has been meeting Sundays at Ranch View Elementary School in Ontario since 2006 and we are ready to move into a permanent home. We are interested in 2 Acres of land near the corner of Jacaranda St. and Magnolia Ave., so we can better serve the community!
Here are some ways we have served our neighbors:
Ranch View Elementary
We help with major clean-up projects throughout the year and maintain their community garden. We also have donated hundreds of books to their library, school supplies and teacher appreciation parties throughout the year. We also adopt families in need every Christmas and help with a few gifts for each child and the parent.

Halloween Trunk-or-Treat
community event we host each year.

Community Art Show for Kids and Adults
where over 400 students in the district had their art showcased.

Vacation Bible School
Fun week during the summer evenings for the community.

Gear Check Booth
at Ontario 5K Reindeer Run for the past 3 years.

Building Homes
We have built over 30 homes in Baja for the past 13 years for families in need.

Local Charities
We have partnered and served with our local food banks and women in crisis shelters all throughout the year.
Frequently Asked Questions
With a potential building project in your area you probably have some concerns. Here are a few of the ones most talked about, but we are open to any you might have. Our desire is to add to your neighborhood, not take anything away.
What about the traffic?
GracePoint is a community church made up of about 80 people. The only day of the week there will be more than 4 cars in the parking lot would be Sunday mornings at 10 am.
What about the noise?
GracePoint's proposed building will be well insulated for the highest sound quality, which is beneficial for those inside, while keeping the noise from traveling outside. Music will be played on Sunday mornings and practices on Weds evenings.
What about the lights?
The city of Ontario building codes are very specific about what kind of lights and where they point. The code prevents light from bleeding out of the parking lot and building and into the neighborhood.
What about the building?
Our building will be designed to fit into the local architecture of the community and not overwhelm the neighborhood. It will be a single story structure of about 8000 sq ft. with a parking lot and lots of landscaping per the city code. It will look like a small community center.
We value your feedback
Let us know what questions and concerns you may have regarding GracePoint and our new building.
Mailing Address
PO Box 3608
Ontario CA 91761
United States
Proposed New Home
S Magnolia Av / Jacaranda St
Ontario CA 91762